It serves 8 glasses of panacotta. 
Ingredients for the panacotta glass:
750 Gr Vegan whipped cream without milk protein
125 Gr Soya Milk or Bio Rice Milk
42 Gr Stevia
8 Gr Cornflour
170 Gr 70% cacao content chocolate
1 Gr Madagascar Vanilla (Liquid Vanilla)
Ingredients for the forest fruit glacage :
200 Gr Strawberry puree or fruit
20 Gr Raspberry
16 Gr Water
12 Gr Stevia
3 Gr Pectin ΝΗ for fruit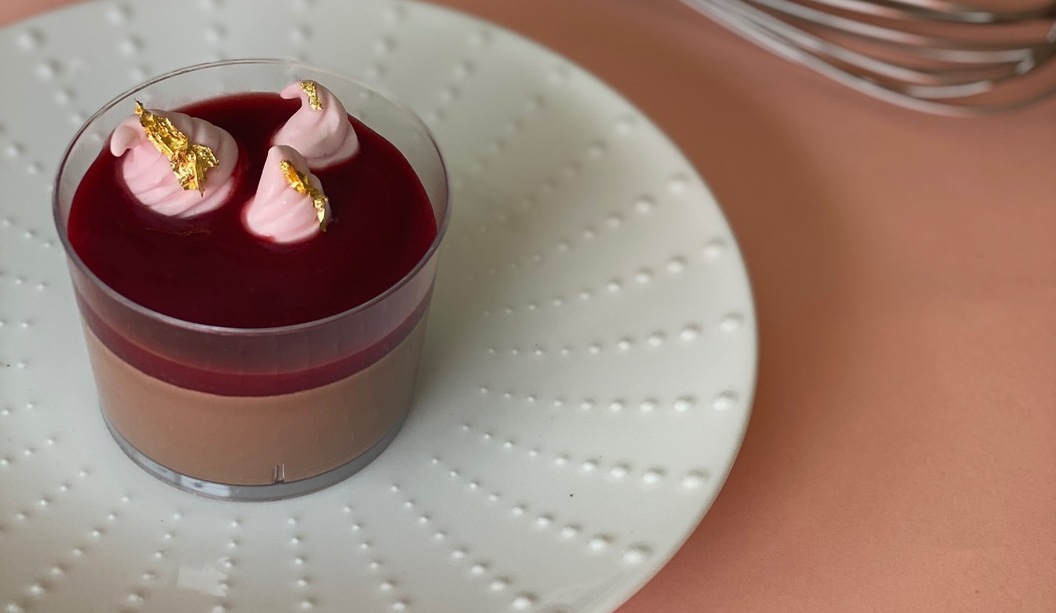 For the chocolate panacotta:
In a pan we pour the milk, whipped cream, vanilla and half the quantity of stevia Using a rubber spatula we mix until the mixture reaches 40 ο C. We add a quantity of the mixture in a bowl that we have already put the rest of the stevia and the cornflour. We mix using a bimmer mixer. We transfer back the mixture to the pan and we stir until it becomes creamy. We add the melted chocolate (45 ο C) and we stir until it melts. We leave to cool until the temperature reaches 35 ο C stirring occasionally using a whisk.
For the forest fruit glacage:
We warm the purre and fruits with half the quantity of stevia in a temperature of 50 -60 οC. We add the pectin which we have already mixed with the rest of stevia. We stir until all the ingredients homogenize and when the mixture starts boiling we boil for a minute. When the fruit coulis is cold it is ready to be served in the glasses.
Αssembly:
We fill each glass with 120gr panacotta and we put in the freezer for a day. The next day we add 25gr of the forest fruit coulis.